Royal Enfield may be considering pulling the plug on the company's 500 cc motorcycle models, according to a latest news report. The reason for this decision is attributed to the high cost of updating the motorcycles to the upcoming Bharat Stage VI (BS6) emission regulations. As things stand today, Royal Enfield has three broad range of motorcycle models - the high volumes 350 cc models, the 400 cc Royal Enfield Himalayan, the 500 cc models across the Classic, Bullet and Thunderbird models, as well as the new 650 cc Twins - the Royal Enfield Interceptor 650, and the Royal Enfield Continental GT 650.
Also Read: Royal Enfield May Stop Selling 500 cc Bikes
Come April 1, 2020, when the new BS6 regulations will come into effect, no automobile in India, which is not BS6-compliant, can be registered. Manufacturers across the spectrum, including all two-wheeler manufacturers, are busy updating their product portfolio to meet the new BS-VI norms. The changes will include the introduction of fuel-injected engines across all two-wheeler models. And these changes will come at a cost. According to most estimates, prices of all two-wheelers will increase by 10-16 per cent with the updated and cleaner technology. This means that prices of all Royal Enfield motorcycles will also increase in their BS6 variants.
Also Read: 2020 Royal Enfield Classic 350 BS6 Spotted On Test
But Royal Enfield may not be working on a simple solution to make its products meet the new regulations. Spy shots of the upcoming 350 cc models indicate that there will be significant updates, not just to the powertrain, but also the introduction of a new double cradle chassis. And these shots reveal more changes to the engine cases, with the bottom end somewhat resembling the new 650 Twins. That could mean, more than just a new 6-speed gearbox on the 2020 Royal Enfield 350 models.
Other changes could include a completely new engine which may ditch the traditional push rod architecture in favour of overhead cams. This is expected to make the new engine significantly more refined, as well as have much better performance. But all these changes will come at a price, and if the 350 cc engine is a complete revamp, along with fuel-injection, the cost of the new range will likely see an increase, just by how much, is difficult to ascertain at this stage.
As of now, prices of Royal Enfield's 500 cc range begin at ₹ 1.89 lakh (ex-showroom, Delhi), for the RE Bullet 500, going up to ₹ 2.15 lakh (ex-showroom, Delhi) for the Royal Enfield Thunderbird 500X. Comparatively, the new Royal Enfield Interceptor 650, with a parallel-twin engine, which is significantly more refined and powerful is currently priced at ₹ 2.56 lakh (ex-showroom, Delhi). The idea behind the 650 Twins is to not only establish Royal Enfield as a leader in the middleweight segment in the global motorcycle market, but also to build on Royal Enfield's strengths in the domestic market.
Also Read: Royal Enfield Sets Up Assembly Plant In Thailand
On an average, Royal Enfield has been selling between 60,000-70,000 motorcycles every month in the domestic market over the past couple of years, with a brief slowdown in recent months, primarily due to a slowdown in the domestic auto industry. But nearly 80 per cent of those sales numbers come from Royal Enfield's 350 cc models. It's only in recent times that volumes of the 500 cc models have seen a somewhat increase in the domestic market; the 500 cc models were primarily made for the export markets, although export volumes have been far from enthusiastic.
Also Read: Royal Enfield Exports Gain Momentum
With the new 650 Twins, Royal Enfield intends to change the way the brand is perceived, both in the domestic market, as well as make new inroads into the middleweight segment in the global market. Earlier this year, Royal Enfield set up the company's first assembly plant outside India, in Thailand. And exports have gradually, but certainly started gathering momentum, primarily on the back of the new 650 Twins. In July this year, exports crossed the 5,000 number, and in October 2019, Royal Enfield's exports grew by a whopping 987 per cent to 4,426 units, compared to the same month a year ago. The prices of the 650 Twins also make them tempting for existing Royal Enfield owners to upgrade to a better, parallel-twin platform, which is affordable, and easy on the pocket from an ownership perspective.
With the new BS6 regulations on the horizon, Royal Enfield's 350 cc models could be completely revamped, also justifying the price increase, as well as offering more performance, refinement and reliability than ever before. Senior officials from Royal Enfield's UK Technology Centre, an overseas R&D centre for new product innovation, have been making frequent trips to Royal Enfield's manufacturing facilities in Chennai. These could be routine visits, but could also be part of an ongoing strategy of product development, testing and tweaking process for the new 350 cc engine platform, before it's launched in time for the BS6 deadline.
Prices for the 350 cc models will definitely see an increase with the new models, with significantly better technology and performance. But to replicate the same changes in the 500 cc model range may result in a pricing clash - bringing the single-cylinder 500 cc models close to the very competitively-priced 650 cc parallel-twin models. Carandbike reached out to Royal Enfield for an official statement on the report, but we have yet to hear back with a response. Product strategy isn't a simple process, and Royal Enfield beat all expectations with the attractive pricing of the 650 Twins. But will it make sense to keep a single-cylinder 500 cc model range, when the vastly more advanced 650 cc parallel-twin is well on its way to become Royal Enfield's biggest seller overseas?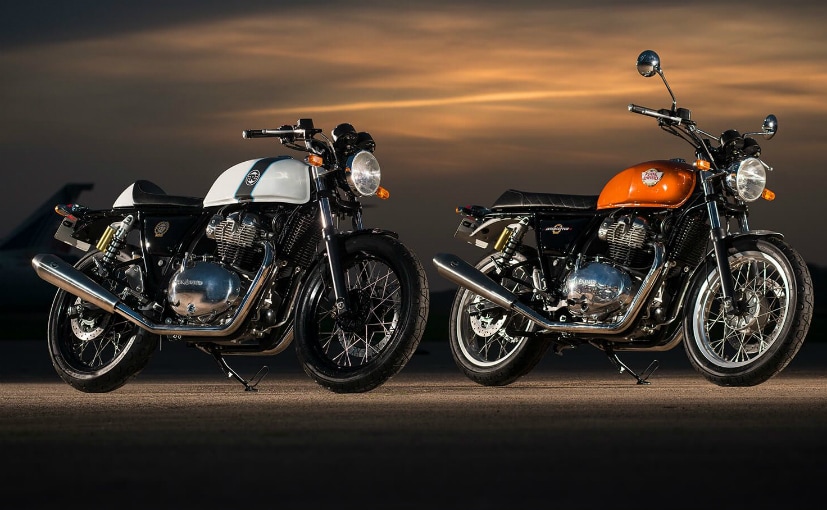 0 Comments
So far, there are no indications on how Royal Enfield will consolidate its product line-up in 2020. After all, having 350 cc, 400 cc, 500 cc and 650 cc models, all within easy upgrades of each other may not be in line with the company's mid-term strategic vision. The mass market models can still be catered to by a vastly improved 350 cc platform, while the adventure segment will again be addressed by a new and improved Himalayan. For those looking to take a stab at an accessible performance-oriented Royal Enfield, the new BS6 650 Twins will fill that gap, as well as address demands of the export markets. So, the 500 cc Royal Enfield could well be on its way out.
For the latest auto news and reviews, follow carandbike on Twitter, Facebook, and subscribe to our YouTube channel.