The popular Maruti Suzuki Swift and the Datsun Go have failed the latest round of Indian crash tests carried out by Global NCAP. The Go is an entry-level model, which competes with Maruti Suzuki's Alto800 and Hyundai Eon, while the Swift is positioned as a more premium hatchback.
The Swift has received a zero star rating in the 64km/h frontal collision test. Two variants of the car were tested - one exported by Maruti to Latin America and another which sells as the base variant here in India. Latin American market regulations mean that car's base variant too has airbags/ABS, while in India neither is standard.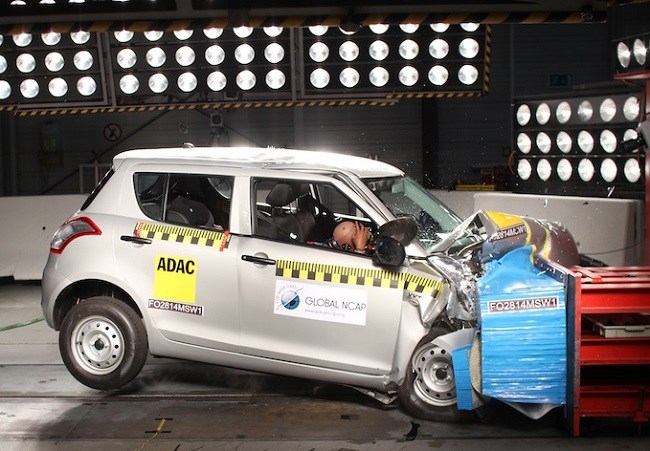 Also Read: India's best selling cars fail Global NCAP safety test
Global NCAP's testing protocol mandates that all cars (including base variants) must carry at least airbags and ABS to get its certification; and so on that count alone the Indian Swift model failed the test even before the crash happened. The crash analysis showed the crash-test-dummies having sustained near-fatal injuries, more so in the case of the driver. The car's structural integrity was also deemed as unstable. And this is a key point, given the made-in-Europe Swift has a much sturdier structure and had achieved a 5-Star crash certification from Euro-NCAP.
The Latin American export Swift got a 3-Star rating, chiefly due to the presence of airbags/ABS, which meant fewer injuries to the crash-test-dummies. But structurally that car performed similarly to the other Swift. (Watch: the test preparations and actual crash of Latin American export variant)
But it isn't just about adding airbags or ABS, as the Datsun Go's crash test shows. The car's body shell disintegrated severely during the same kind of test. Of course the lack of airbags further compounded the potential injuries. The driver and passenger dummies sustained fatal injuries to the head, torso and legs.
Last year Global NCAP had carried out the first round of India tests, where the Tata Nano, Hyundai i10, Maruti Alto800, Ford Figo and VW Polo had been crashed. None of the cars had passed due to a lack of airbags as standard, with the smaller cars faring poorly on build quality too. (Read: Details of the first round of India crash tests by Global NCAP)
The focus of these tests is to create awareness amongst Indian consumers, and also suggest the adoption of safety protocols by the government. Very often manufacturers claim they don't offer safety features in base versions due to lack of demand by consumers. (Read: What should you keep in mind when buying a car)
There is a draft bill on road safety that has been prepared by the NDA government, and set to Parliament. Sharing details of the new bill with NDTV, the Road Transport Ministry says it proposes the setting up of an India NCAP and adoption of safety standards that will mirror what's currently mandated in Western Europe.
PS: All manufacturers whose cars are crash tested are always informed and invited to witness the test. We sought reactions from both Maruti Suzuki and Datsun.
Nissan India which owns Datsun has told NDTV: Automotive regulation standards in fast-growing countries are constantly evolving and as a global manufacturer, we are willing to adopt as well as help evolve standards in vehicular safety.

Also Read: Crash Tests Mandatory in India From October 2017
0 Comments
Commenting on this Maruti Suzuki India said, "The cars manufactured and sold by Maruti Suzuki in India fully conform to all the regulations that are presently applicable in India. Maruti Suzuki is committed towards Safety- safety for customers and for public at large. We have given a choice to the customers to select variants having air-bags & ABS. We will ensure all products will meet all the future safety regulations well in time."
For the latest auto news and reviews, follow carandbike.com on Twitter, Facebook, and subscribe to our YouTube channel.