Bengaluru-based tech start-up and electric mobility solutions provider Ultraviolette Automotive Pvt Ltd has announced that the company has received an additional investment of ₹ 6 crore from TVS Motor Company. The investment is part of the Series A funding from TVS to the EV start-up. Ultraviolette is currently building an electric motorcycle that is said to outperform traditional internal combustion engine motorcycles in the 200-250 cc segment. A press released by Ultraviolette stated that the additional investment will be used for continued product engineering and further expansion of the company's core R&D team and facility.
"At TVS Motor Company, we are committed to creating offerings with best-in-class quality, cutting-edge technology and that delights the customer. As a responsible manufacturer, we see immense promise in Ultraviolette Automotive's vision of bringing innovative and sustainable electric vehicles in India. Ultraviolette Automotive has made significant progress in their product engineering in a short span of time and we are confident that they will build a product that will pave the way for electric mobility in the country," said K Gopaladesikan, CFO, TVS Motor Company.
Also Read: TVS Buys 14.78 Per Cent Stake In EV Start-Up Ultraviolette
Ultraviolette Automotive was founded in 2016 by Narayan Subramaniam and Niraj Rajmohan. The company was established with the vision of creating top-of-the line mobility solutions, that's driven by progressive design and energy efficient technology. With Series A funding from TVS Motor Company, Ultraviolette Automotive is developing India's first ecosystem of high performance electric motorcycles and future-ready energy infrastructure.
"This investment is a validation of TVS Motor Company's faith in our product and the progress we have made so far with our motorcycle. We are building a high performance electric motorcycle that brings together the best of technology and design to deliver an unmatched user experience. The motorcycle will be enabled with smart features such as on-board diagnostics, preventive maintenance, over the air upgrades and ride customization. We believe that TVS Motor Company's continued support will go a long way in realizing our goal of delivering a superior electric vehicle in India," said Narayan Subramaniam, Founder and CEO, Ultraviolette Automotive Pvt. Ltd.
"We see great long term synergy in our partnership with TVS Motor Company considering the rich heritage and decades of industry experience they bring, and the innovations in design and technology at Ultraviolette Automotive. With this investment, we are looking to ramp up the development of high-end electric powertrains, battery modules and connected technology", said Niraj Rajmohan, Founder and CTO, Ultraviolette Automotive Pvt. Ltd.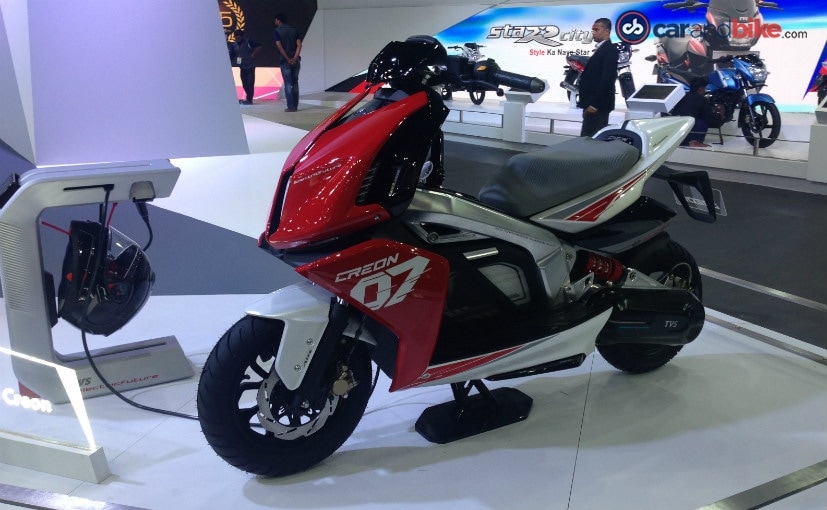 Also Read: TVS Creon Electric Scooter Prototype Unveiled
0 Comments
In December 2017, TVS Motor Company bought a 14.78 per cent stake in Ultraviolette Automotive Pvt Ltd. So far, there is not much known about what Ultraviolette is working on, but what is certain is an all-electric motorcycle which is expected to be the company's first product to hit the market. Ultraviolette has also been testing electric two-wheeler prototypes, battery packs and a host of other offerings. TVS is working on the electric two-wheeler space, like the Creon electric scooter prototype unveiled at the Auto Expo 2018. As for electric motorcycles and the electric ecosystem, it's not clear whether TVS is already working on a full-fledged electric two-wheeler system in-house, or if it will be developed in collaboration with Ultraviolette. Whatever the case may be, it's certainly exciting times for TVS Motor Company.
For the latest auto news and reviews, follow carandbike on Twitter, Facebook, and subscribe to our YouTube channel.