The crash-worthiness of made-in-India cars in crash tests continues to remain under question. The 4th round of crash tests of Indian made models of popular cars by safety watchdog Global NCAP shows marginal improvements only. The cars tested were the Renault Kwid (in a follow up test) and the Honda Mobilio (which shares its structure with the recently launched BR-V). The Kwid with an enhanced structure a driver-side airbag has now received 1 star for adult occupant safety and the Mobilio has 0 stars (base variant) and 3 stars for the variant with airbags.
David Ward, Secretary General of Global NCAP has said, "Renault and Honda make safe cars in other markets, they have the know-how to make all their Indian cars much safer. We expect them to start doing so now."
2.94 Lakh *
On Road Price (New Delhi)
The Kwid has been gaining in popularity but received a set back in May when the last round of crash tests had showed it failing the tests. At the time Renault had said it would rework the car's structure and wanted Global NCAP to test the car afresh. That is the follow up test that has now been conducted. So the Kwid does see a marginal improvement in its result. This is primarily thanks to the driver airbag and a seatbelt pretensioner for the driver's seat. Global NCAP says the test result shows high chest deflection, which is why the car still scored just one star. Ward adds, "Renault has made limited progress, they should be offering their one star car as the standard version not an option. Honda too has shown that with two airbags they can achieve 3 stars. These safety systems should not be options."
The Honda Mobilio was first tested in its base variant. That test showed the car has having a stable structure, but the lack of airbags resulted in zero stars for adult occupant protection. Honda had then requested Global NCAP to test the car with dual airbags, and it then achieved a respectable 3 stars.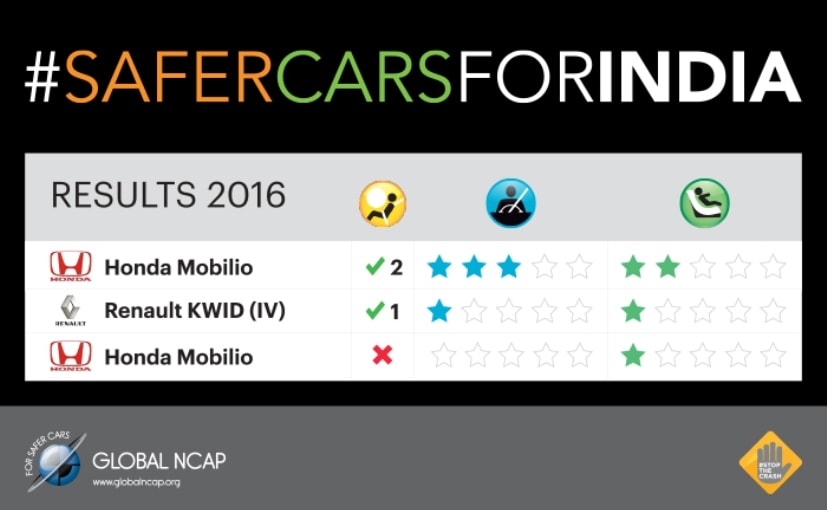 NDTV has reached out to both Renault and Honda for comment on these results. Renault India issued a statement saying, "India is gradually moving towards international safety norms by including more robust safety regulations and the assurance of the Bharat NCAP is a positive step in this direction. As a customer-focused company, Renault fully supports this initiative and we are already future-ready in terms of technology, design and engineering for enhanced safety for all our vehicles." Meanwhile, Honda Cars India has said, "In both the tests, the Mobilio body was found to be stable and survival space for passengers was maintained after collision, with no A pillar collapse. Furthermore, the opening and shutting of doors were possible after the collision, which is an important factor in rescue operations. This result was achieved with Honda's original vehicle body structure, Advanced Compatibility Engineering (ACE) body." Earlier Honda had already announced that it would transition its entire portfolio to having dual airbags as standard by April 2017.

India is expected to adopt strict crash testing norms in less than a year. The Bharat NCAP programme is set to be implemented next year, but sources indicate an actual rollout will only happen by October 2018. That is when all new models will have to adhere to crash testing. This will include all existing models will also need to undergo crash testing certification by October 2019 - which presumes an update or model change then for all existing cars that are likely to fail the tests.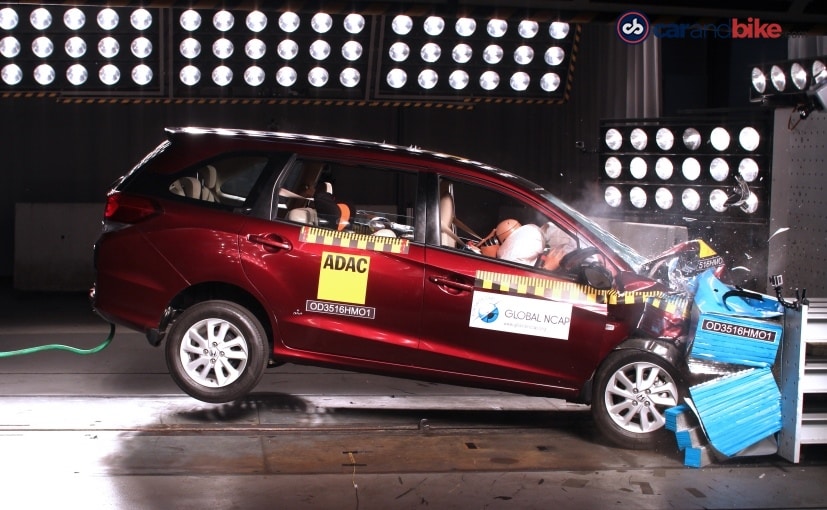 0 Comments
Global NCAP began its Safer Cars For India programme in 2013 when the first results of 5 cars tested, were made public. At the time it was the previous gen Ford Figo, VW Polo, Hyundai i10, Maruti Suzuki Alto 800 and Tata Nano that had been crashed. The follow up to that was a year later when round two was conducted with the Datsun Go and Maruti Suzuki Swift. And we had the 3rd round of India crash tests held in May this year with the Mahindra Scorpio, Maruti Suzuki Eeco and Celerio, Hyundai Eon and Renault Kwid that had been crashed. The outcome of this has been better awareness and also some pressure on the government to introduce updated safety and crash norms for the Indian automobile industry. It also prompted many manufacturers like Toyota, Volkswagen and Mahindra to make safety equipment standard or at least optional on all models.
For the latest auto news and reviews, follow carandbike on Twitter, Facebook, and subscribe to our YouTube channel.